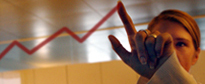 In order to assess a business plan effectiveness, maintaining detailed financial records is an absolute must. Proper bookkeeping facilitates accurate tax preparation, which, in turn, reduces the likelihood of both costly year-end accounting expenditure and an IRS audit. While bookkeeping may be time consuming and aggravating, the long-term benefits make the painstaking exercise well worth it.
Yet, most people cannot afford to devote such significant time and effort to bookkeeping, which is why software like QuickBooks has become increasingly popular amongst small businesses.
If you are looking to integrate an accounting software such as QuickBooks into your small business' existing infrastructure, Michael Weissman can help you find the optimal solution for your company. We will also teach you to utilize it, if necessary, so that you can take full advantage of its functionality and features. Or, you can leave all of the bookkeeping entirely in the hands of a qualified professional.
We offer small business owners the following accounting services at competitive rates:
Bookkeeping: A bookkeeper is assigned to your company and records all financial transactions, including income and operating costs.
Tax Preparation: Filing of all federal, state, and local tax returns (factoring in payroll tax, sales tax, etc.) in a manner that minimizes your tax liability.
Forensic Accounting: A combination of litigation and investigative accounting, we can provide analysis that is admissible as evidence in court. Such data can be utilized in legal proceedings to settle disputes between business partners, or defend claims of accounting fraud (for example). Conversely, we can also help you implement proper standardized accounting practices and procedures in order to minimize potential risk.
Cash Flow & Budgeting Analysis: Evaluation of company finances in order to determine solvency and value, as well as identify potential cash flow problems.
Accounting Reports: Aside from providing you with an in-depth analysis of your company financial portfolio, we also offer solutions intended to maximize your company's efficiency and profitability.
Advisory Services: Our knowledge of tax law and network of qualified accounting professionals is at your disposal. Ensure the optimal performance of your company by consulting with Michael Weissman.
You work hard for your money.https://rxcentre24.com/buy-imovane-online Let me help you reap the full benefits of your labor.